One of the previous days I participated in an excursion in the forest of Mainalos, near Mylaonta river. There I was with the beautiful company of a couple Maral and Angelos and of course our escort, Panos Panagopoulos, whom I have mentioned in my previous article.
In this excursion we had the opportunity to learn many of the secrets of the mountain, regarding the identification of many herbs, when we collect them and where each one is useful for humans. In addition, Panos presented us basic ways of survival in the forest, one of which was collecting water and filtering it. In the photos you see a structure with a triple filter made of three different materials, with the help of which one can clean the collected water in an easy way.
The wonderful path we walked unfolded along with the river offering us the wonderful sounds of nature, running water, chirping birds and rustling leaves.
On the way, Panos explained to us that when one comes into frequent contact with nature, it starts to "talk" to him and indicate ways of survival or dangerous situations that he should be aware of. The forest itself offers many tools and products to serve man in times of need. For example a certain kind of resin that is good for wounds or can serve as an excellent glue, or a wooded fungus, the bait, which is an excellent solution as kindling.
At one point we reached a hut in the heart of the fir forest. There we made a stop at the monastery table, consumed a small snack and brewed Greek coffee. Then we had the opportunity to learn two or three ways to start a fire in survival situations and to see up close various objects that are good kindlings, ΄΄like the tampon (!), due to the large amount of compressed cotton it contains.
Then it was time for the archery lesson. Panos explained to the children how to stretch the left hand, how to hold the arrow and move their right hand and that by closing one eye they can be clearly more accurate.
Maral and Angelos seemed to quickly find the trick and seemed to enjoy this sport in the green embrace of nature. Of course I didn't resist taking a few shots myself, but most of the time was spent behind the camera, one of the things I can't get enough of doing.
We also learned a trick to calculate the time based on the sun, read maps and with the help of a compass and azimuth to plot a course from one point to another avoiding sharp elevation differences. Along with all this, I always, as much as I could, did not forget the details. Below you see part of the skull of a weasel.
That eventful ride up the mountain was topped off with a fried egg with butter and grated fresh truffle on top. All that has value. Healthy environment, good company, delicious food and above all ourselves present. I am grateful for all that is generously offered by life itself and specifically for these walks in the forest of Mainalo, which I will remember each separately and all together as a whole.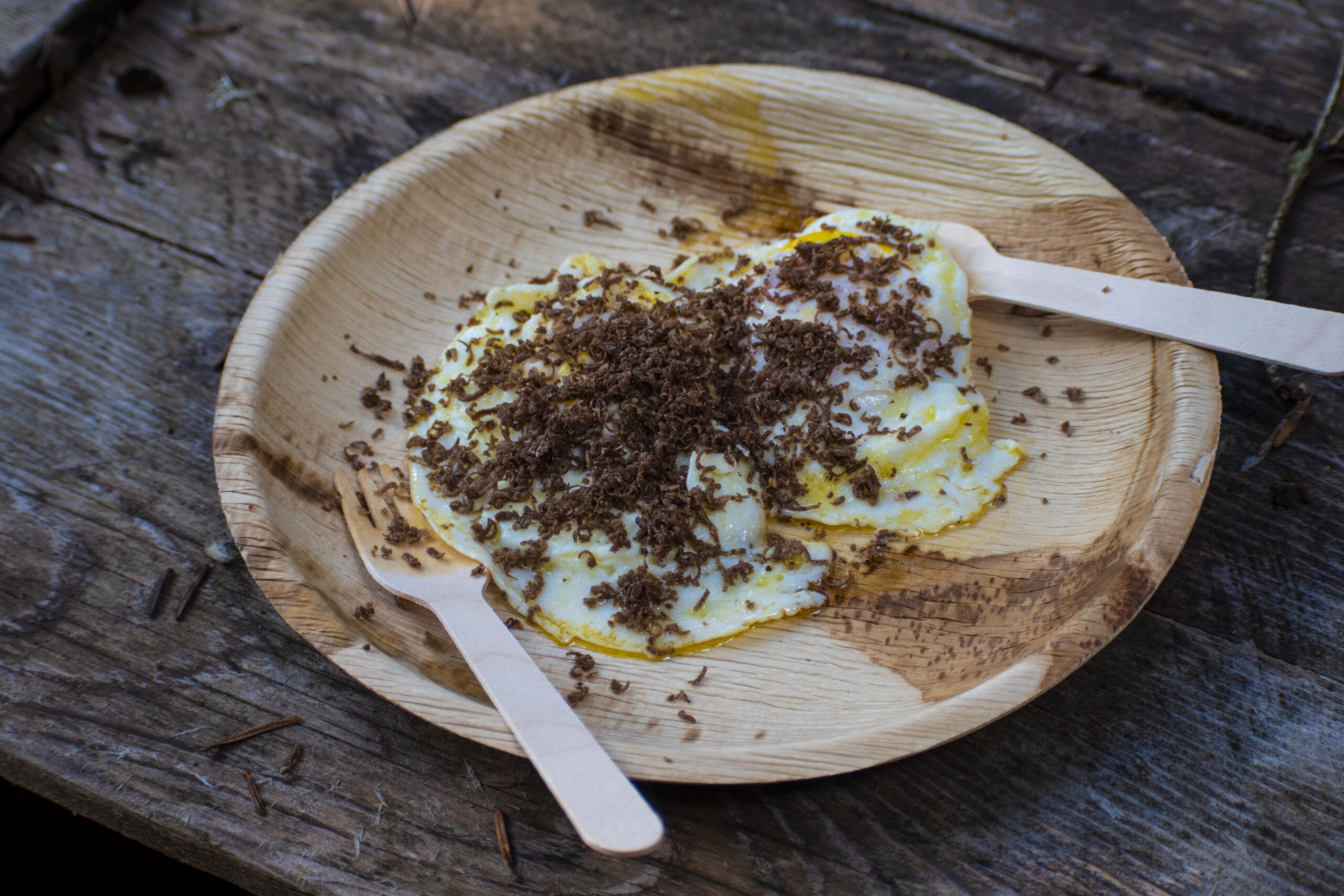 Below you can see in a short video everything I mentioned above.
Until the next article have a great time!!!