Good morning everyone out there!
As if the heatwaves and numerous fires that engulfed the country were not enough, these days rains and floods have caused incalculable damage in various locations. It's as if some dark karma is being paid off… But despite the hardships the country is going through, I'm trying to be optimistic. I hope we all come out together stronger and wiser soon. Joy, love and above all trust I prefer nestling in my heart especially now, but also every moment.
In Mainalo, September made its powerful entrance with mild but continuous rains and fogs. And I dare say that a Christmas mood has begun to awaken in me. Outside the window of my new house I see the mountain and a part of Vytina, bathed in this cinematic blue light. The temperature some nights approached 10°C and I saw a chimney in the neighborhood smoking. I might turn on the fireplace soon if the temperatures continue to be this cold, though I doubt it. On the days I don't work, I clean the house as much as I can and read books in my new chair, near the window.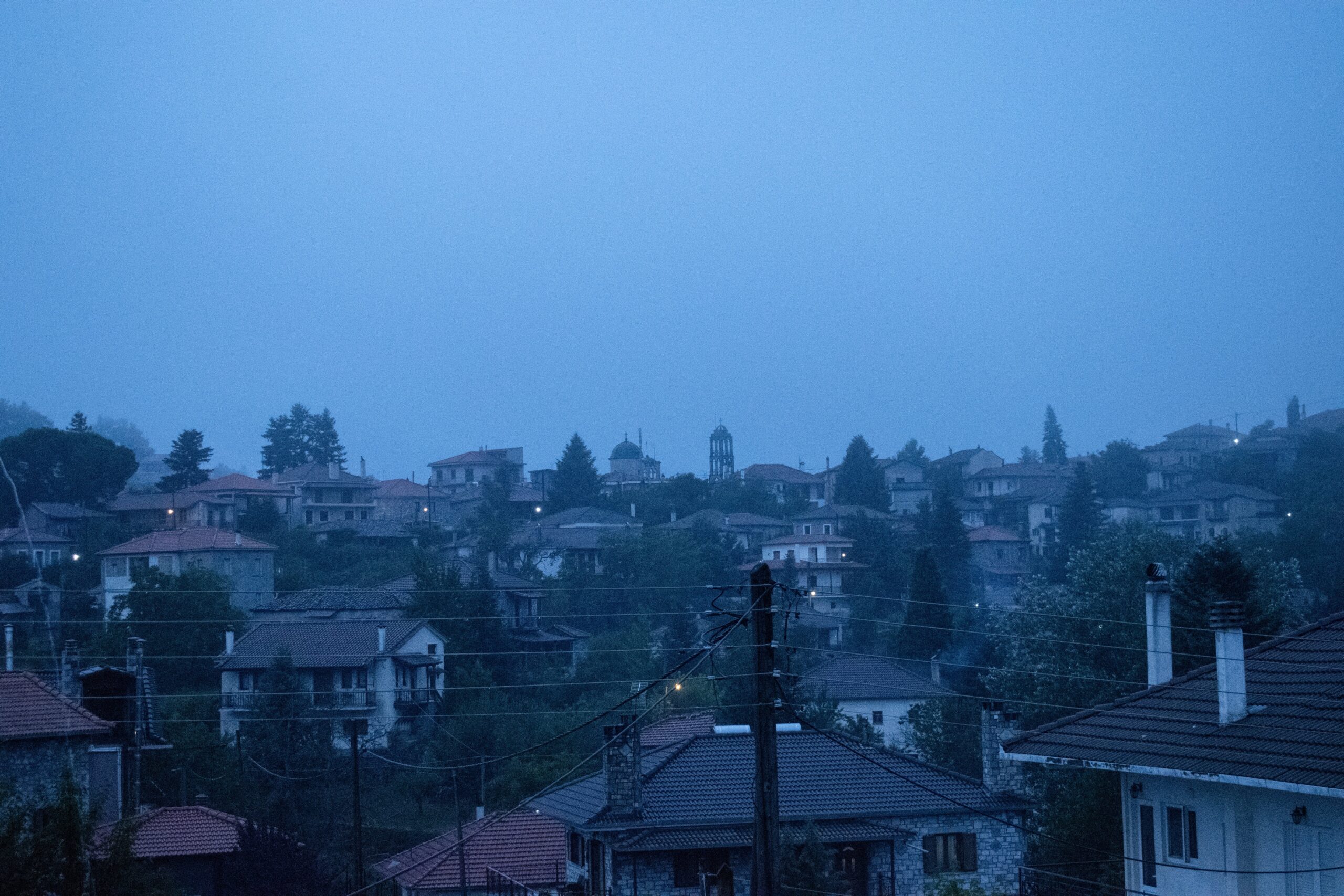 There is still a lot of work to be done at home. A few exterior walls have just been plastered and the shutters have yet to be installed. But slowly everything will happen. At the moment what I'm thinking about is the trip I'm going to make to an Aegean island in two days! Yes, the moment for my little vacation has arrived! It is a fact that this summer I did not manage to take a single dip in sea water, but now I will have the opportunity. I will tell you about this in the next post.
At this time I confess that I am probably a little anxious about how things will develop regarding the artistic projects I want to implement. A lot has fallen together and I keep reminding myself not to rush, that everything will come in time, to have patience and perseverance. I'm in this new beginning and things seem to take their time to get a flow… But I feel it coming.
Yesterday I took the car and drove through the forest. Being in contact with nature alone in silence is something that I had been offering myself for a long time… At first I didn't feel like it, I wanted to postpone it and as usual I had filled the list of things to be done during the day and said that I don't catching up… I was making excuses by lying to myself that I have to run off to deal with everything else but me. But in a moment I just closed everything, got dressed, took the camera and went out into the streets. There is always a way and a time here and there to stop and turn within myself…
For a time it will have those gloomy September twilights, with the characteristic echo of summer. It's like all creatures are falling in love under a veil of mystery and I want to participate in it as much as possible, before winter arrives and everything falls into a deep sleep… August flew by and I didn't make a single foray into nature. But I will try not to let the same thing happen in the autumn months. 
I just wanted to say hello and give you a taste of how the days are going here. I have taken a lot of footage to prepare a vlog where I will explain more. But it's a lot of work and I don't know when it will be ready, hopefully in October.
Until the next post I send you a warm hug!